Notes for my Web Design Courses
Web Resources – A list of useful links for the 10–week web design courses I teach at City College Brighton & Hove.
Current course information and availability.
Various examples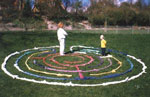 These examples may no longer be up-to-date.
An image gallery with captions.
An image gallery with a lightbox.
A responsive image slider using CSS.
A 'rollover' image gallery using CSS.
Menu with pop–ups – Creating a menu with pop–ups using CSS.
Blockquotes – Styling blockquotes using images and CSS.